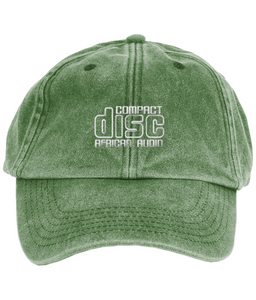 CoolAfrican Vintage Low Profile Cap
Introducing the CoolAfrican Vintage Low Profile Cap, a stylish and retro-inspired accessory that adds a touch of nostalgia to your wardrobe. Made from 100% brushed washed cotton, this cap offers a comfortable and high-quality construction that is built to last.
The standout feature of this cap is the embroidered design that reads "Compact Disc African audio" on the front. This unique and eye-catching detail pays homage to the rich musical heritage of Africa and celebrates the timeless appeal of African audio recordings. It's a perfect way to showcase your love for African music and culture.
Designed in a vintage style, this cap exudes a sense of classic charm and character. The washed cotton fabric gives it a worn-in look, adding to its vintage appeal. The low profile design offers a sleek and modern silhouette, making it suitable for both casual and stylish occasions.
UNISEX

SHIPPING 
We ship worldwide. Shipping fulfillment generally takes 3-5 working days from the date of purchase depending on the shipping option selected.