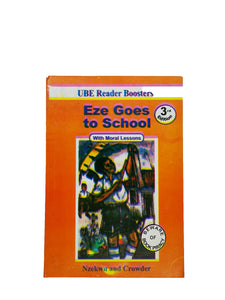 Eze Goes to School Book 
Eze Goes to School is a captivating book written by Onuora Nzekwu that takes readers on a delightful journey into the world of a young Nigerian boy named Eze and his pursuit of education.
In this engaging story, Eze dreams of going to school and acquiring knowledge that will transform his life and shape his future. With determination and a thirst for learning, Eze embarks on a remarkable adventure filled with challenges, friendships, and valuable life lessons.
Through vivid storytelling, Onuora Nzekwu captures the essence of Eze's experiences as he navigates the joys and struggles of attending school in Nigeria. The book beautifully depicts the transformative power of education and the impact it can have on individuals and their communities.
"Eze Goes to School" is a celebration of the importance of education, highlighting the universal desire for knowledge and the resilience of young minds. It showcases the value of curiosity, hard work, and perseverance in overcoming obstacles and achieving one's dreams.
With its engaging narrative and relatable characters, this book appeals to readers of all ages. It offers a glimpse into Nigerian culture and provides a valuable insight into the significance of education in shaping the lives of individuals and communities.
Join Eze on his inspiring journey as he discovers the power of education and the endless possibilities it holds. "Eze Goes to School" is a timeless story that will captivate readers and leave them inspired to pursue their own educational aspirations.

SHIPPING 
We ship worldwide. This order will be shipped out within 24 hours of purchase