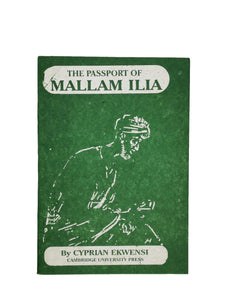 The passport of Mallam Ilia tells the story of love, vengeance and conquest set in ancient Northern Nigeria in the 19th century. With events primarily taking place in Kano, the story chronicles the journey of a fiery young warrior who spent the rest of his life seeking vengeance for the death of his wife, Zarah, in the hands of Mallam Usman.

Published in 1960, The Passport of Mallam ILIA was written by Cyprian Ekwesi
SHIPPING 
We ship worldwide. This order will be shipped out within 24 hours of purchase. 
Please expect  extra Delivery delays due to the Impact of COVID-19 on the Royal Mail.